HOW TO: Make a Buckskin Cell/Smart-Phone Case
Posted: Thu, February, 16th 2017
This is a tutorial on making a buckskin phone case for the Samsung Galaxy Note 5 Smart Phone. Buckskin is a very versatile medium for not only clothing but other accouterments, and accessories as well. Here I am using double-loop lacing with flat strip of buckskin.

Details on how to do this type of leather working can be found in the accompanying video below...
Read more > >
DIGITAL-DOWNLOADS Now Availables!
Posted: Tuesday, January 22nd, 2019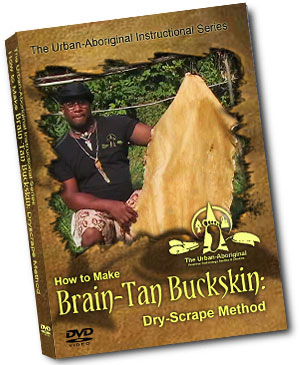 In the video, Brain-Tan Buckskin DVD: The Dry-Scrape Method, I will take you through the entire process from a 'green' hide to a soft, supple, luxurious, finished product.
In this video, How to Make Fire by Friction : The Bow - Drill Method, I will show you how to create one of the most reliable ways to start a fire from scratch.
Download Today! > >