HOW TO: Wild Chanterelle Preparation with Marek Turowski
Posted: Sat, February, 25th 2017
Mycologist and mushroom hunter with the Minnesota Mycological Society, Marek Turowski, explains his method of preparing the much sought after edible fungus Wild Chanterelles.

==================================
Chanterelle Preparation:
Remove ends (dirty part)


Place in cold water


Using soft dedicated toothbrush, going with the grain (upwards towards the cap rim and downwards towards the stem end), gently brush the gills free of dirt and debris, as well as the cap... Read more > >
DIGITAL-DOWNLOADS Now Availables!
Posted: Tuesday, January 22nd, 2019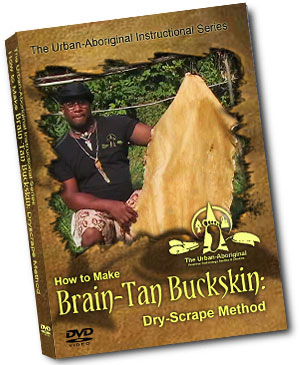 In the video, Brain-Tan Buckskin DVD: The Dry-Scrape Method, I will take you through the entire process from a 'green' hide to a soft, supple, luxurious, finished product.
In this video, How to Make Fire by Friction : The Bow - Drill Method, I will show you how to create one of the most reliable ways to start a fire from scratch.
Download Today! > >