HOW TO: A Little Tidbit: Fire Accelerant with a Tortilla Chip! w/ The Urban-Aboriginal
Posted: Thu, February, 4th 2021
In this short video I test whether a tortilla (Dorito) chip can be used to get a fire started in inclement (bad) conditions as an accelerant. I test both a stale chip, that has been out of the bag a few days, and a fresh chip...and YES, I am using a lighter for the TEST!
However, that is not the point, there are situations where you may have one match, or a lighter that is running out of fuel, and you need to get a less than perfect tinder-bundle ignited under less than perfect conditions...
Read more > >
DIGITAL-DOWNLOADS Now Availables!
Posted: Tuesday, January 22nd, 2019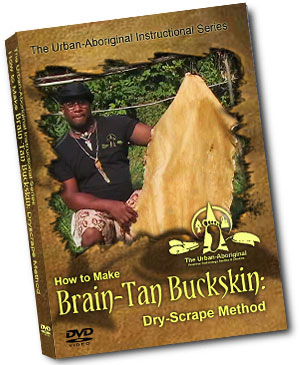 In the video, Brain-Tan Buckskin DVD: The Dry-Scrape Method, I will take you through the entire process from a 'green' hide to a soft, supple, luxurious, finished product.
In this video, How to Make Fire by Friction : The Bow - Drill Method, I will show you how to create one of the most reliable ways to start a fire from scratch.
Download Today! > >