HOW TO: Make a Dreamcatcher
Posted: Mon, October, 5th 2009
Traditionally, the dreamcatcher is hung above the bed, is used as a charm to protect sleeping children from nightmares. As dreamcatchers are made of willow and sinew, they are not meant to last forever but are intended to dry out and collapse as the child enters the age of adulthood.

The Ojibwa believe that a dreamcatcher will catch bad dreams and allow good dreams to pass through the center hole to the sleeper...
Read more > >
DIGITAL-DOWNLOADS Now Availables!
Posted: Tuesday, January 22nd, 2019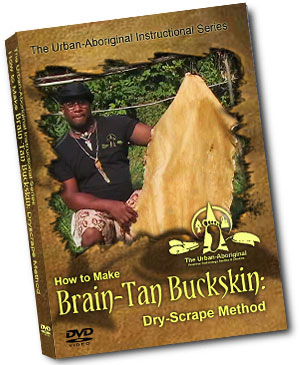 In the video, Brain-Tan Buckskin DVD: The Dry-Scrape Method, I will take you through the entire process from a 'green' hide to a soft, supple, luxurious, finished product.
In this video, How to Make Fire by Friction : The Bow - Drill Method, I will show you how to create one of the most reliable ways to start a fire from scratch.
Download Today! > >